Solar fence for private users
Energy self-sufficiency with solar power
The Next2Sun solar fence can do more than simply generate enough power to cover a single-family household – it also serves as a low-maintenance weather-resistant replacement for hedges and fences. The premium bifacial solar fence is very versatile and can for example be used as a boundary enclosure, site divider or partition, privacy screen, or even decoration. The solar fence offers innovation and sustainable power generation as well as a very appealing, solid visual design.
Benefits of the Next2Sun solar fence
The Next2Sun solar fence
Pays for itself more quickly than a roof PV!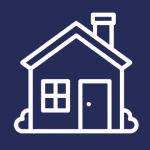 Cover the energy requirements of a five-person household with:
| | Roof PV | Solar fence |
| --- | --- | --- |
| Investment costs | €5,7605 | €15,700 |
| minus alternative fence | €0 | -€8,8626 |
| Net PV investment: | €5,760 | €6,838 |
| Electricity yield p.a. | € 6854 | € 8774 |
| PV pays for itself in | 8.4 years | 8.0 years |
| Fully pays for itself in | 21.3 years | 18.1 years |
1 Five-person household in a private house with electrical hot water preparation and an annual consumption of 8,800 kWh
2 Common washing machine consuming 1 kWh/wash
3 Vehicle: Hyundai Kona Elektro with power consumption of 19.5 kWh/100 km (ADAC Ecotest)
4 Power consumption savings at current kWh prices from a standard regional provider (25 ct/kWh), with installed power of 4.8 kW and annual production of 1,050 kWp, with 60% (40%) private consumption from solar fence (roof mounting), excess feed-in at 6 ct/kWh
5 PV system price: calculated as €1,200 of costs per kWp
6 Comparable product: aluminium privacy fence of comparable height (€350 per metre of length)
Each additional metre of solar fence means:
€0.93 of savings per week
Each additional metre of solar fence means:
€0.93 of savings per week
What does the solar fence cost?
Enter the characteristics of your plot to calculate the potential power, possible annual electricity yield, and rough budget for your solar fence!
For the yield and cost estimate, we need to know the total length of the planned fence/enclosure using the solar fence, as well as the number of corners or corner elements, if any.
Construction and installation
Robust construction,
easy to install
Any questions about the solar fence?
Take a look at our FAQ with common questions about construction, installation, electricity yield and more.
Satisfied solar fence users
I spent a long time looking for an alternative way to generate power. The solar fence provides shade and a protected outdoor area for my organic chickens, and also produces power for my farm and my tavern all year round.
Next2Sun's innovation has made us even more independent. We wanted an alternative to a living fence that still provided privacy. The 65 metres of solar fence on our property now produce electricity, even in winter. A truly worthwhile investment!
The solar fence is a good addition to existing solar concepts and perhaps also a good replacement for the neighbourhood-repelling plastic fences that are currently in fashion!
The full solar fence package
Working together with our regional installation and consulting partners, we provide the ideal solution and implementation of your solar fence. We offer the following services:
Talk to one of our partners in your region for more information with no obligation!