Solar fence for companies and municipalities
Become energy self-sufficient
Fence with dual applications
Fences are often vital on commercial and industrial property – with the bifacial solar fence from Next2Sun, they can become a source of power or cover your own power requirements. A solar fence can play a key role in generating the energy you need and can increase self-sufficiency from external suppliers. There are various design options for solar fences: as well as being an enclosure and offering protection against intruders, a fence can also provide privacy or serve as a high-end decorative element. It can also further enhance an attractive property and add innovation and sustainability.
Benefits of the Next2Sun solar fence
The Next2Sun solar fence
Pays for itself more quickly than a roof PV!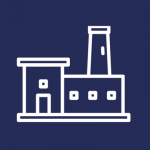 Cover the energy requirements of a commercial company with an annual power consumption of 36,000 kWh with:
| | Roof PV | Solar fence |
| --- | --- | --- |
| Investment costs | € 36,0245 | € 49,900 |
| minus alternative fence | €0 | -€ 22,7046 |
| Net PV investment: | € 36,024 | € 27,196 |
| Electricity yield p.a. | € 4,7604 | € 5,1694 |
| PV pays for itself in | 7.6 years | 5.3 years |
| Fully pays for itself in | 12.3 years | 8.5 years |
4 Power consumption savings at current kWh prices from a standard regional provider (19 ct/kWh), with installed power of 30.02 kW and annual production of 1,050 kWp, with 80% (70%) private consumption from solar fence (roof mounting), excess feed-in at 6 ct/kWh
5 PV system price: calculated as €1,200 of costs per kWp
6 Comparable product: double bar fence of comparable height, net price including installation (€120 per metre of length)
What does the solar fence cost?
Enter the characteristics of your plot to calculate the potential power, possible annual electricity yield, and rough budget for your solar fence!
For the yield and cost estimate, we need to know the total length of the planned fence/enclosure using the solar fence, as well as the number of corners or corner elements, if any.
Construction and installation
Robust construction,
easy to install
Any questions about the solar fence?
Take a look at our FAQ with common questions about construction, installation, electricity yield and more.
As it currently stands, just 13.2 percent of the currently installed system output from renewable energies is owned by business operators. Germany and Austria have around 3.5 million companies, whose energy requirements represent huge potential for expanding decentralised power generation via photovoltaics.
Are you perhaps thinking about building a new fence and researching the right approach? Consider going for a solar fence: in fact, this is just a photovoltaic system with solar modules that is simply installed on a fence rather than on a rooftop.
The full solar fence package
Working together with our regional installation and consulting partners, we provide the ideal solution and implementation of your solar fence. We offer the following services:
What are you waiting for?
Talk to one of our partners in your region for more information with no obligation, or contact us directly.