The photovoltaics innovation
The Next2Sun solar fence concept
The Next2Sun solar fence concept
The Next2Sun solar fence can be used around homes, at commercial or industrial premises or in farming. It offers an interesting alternative in the field of private power generation, as well as a cost-effective complement to existing rooftop installations, solar car ports and so on. The solar fence offers compelling dual uses and combines fencing and power generation in a unique way. Another particular benefit is the unique options for optimising private consumption: the generation profile of a solar fence will vary greatly depending on its alignment, and this can be optimised to suit the client's consumption profile.
Disadvantages of flat mounted solar systems
Mounting a photovoltaics system horizontally would at first seem logical – the sun shines onto the surface from above and electricity is produced. However, this flat orientation means that these systems produce most of their power at around midday, a time that already has an electricity oversupply.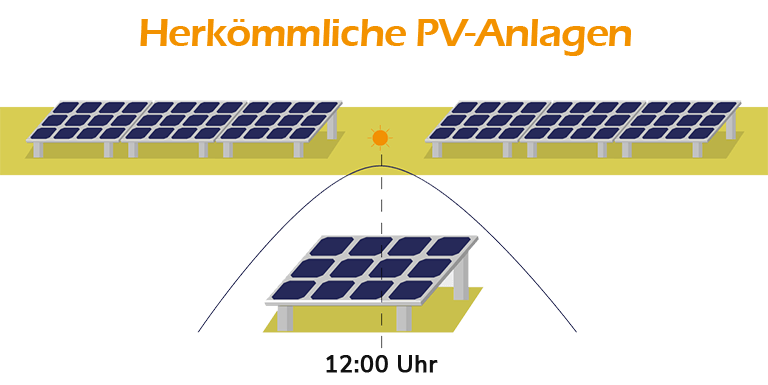 This means that the electricity price at this time of day is reduced on the spot market. In addition, power grids are extremely heavily used or even overloaded at this peak times, increasing the risk of blackouts.
A rooftop installation – if the age of the building even allows – can be quite expensive, as in some cases this may require changes to the roof construction and covering.
Furthermore, flat ground-mounted PV systems take up a lot of space in valuable grassland, but do not offer multiple use and adversely affect the landscape.
Higher yields & multiple use thanks to bifacial modules
If a double-sided high-performance module is aligned vertically, this will generate electricity in the mornings and evenings thanks to its east-west orientation. This characteristic means that as well as achieving higher electricity prices and increasing annual electricity yields by up to 10%, it also reduces the burden on power grids. The solar fence produces significantly better results than conventional systems in the morning and evening.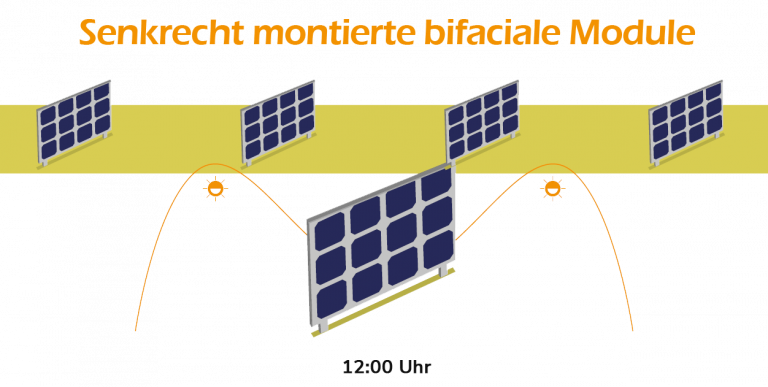 The highly efficient bifacial solar cell generates electricity in all seasons and at all times of day. The front of this extremely efficient solar cell has a 100% efficiency level, whilst the back sits at more than 90%.
Whether the module surface is facing north-south (annual electricity yield 900-1050 kWh/kWp) or east-west (annual electricity yield 1000-1290 kWh/kWp), electricity is also produced on the side not directly in sunlight.
This means that Next2Sun systems can also be used in areas where power grids are running at near capacity from wind and conventional PV systems. But the 'bifacial solar fence' can do much more than just that: whilst energy generation from flat mounted PV systems or rooftop installations can sometimes stop completely in winter, e.g. in snowy areas (modules covered with snow, production stoppages), vertically aligned systems offer constant production even during the winter months. Arranged at double height, which is generally an option when fencing off agricultural areas (e.g. for livestock farming, fencing free range or pasture areas), the solar fence offers a higher electricity yield than conventional rooftop installations and also enables virtually unrestricted land use and management.
Benefits of a bifacial solar fence system
Next2Sun's bifacial solar fence offers numerous benefits over conventionally mounted photovoltaics systems – whether private, commercial or agricultural:
The virtually shade-free frame system for bifacial modules achieves an additional technical yield of 10-15%. Thanks to the higher revenue from the electricity market, since the vertical bifacial system in our solar fence produces electricity at rather the *unusual* times of morning and evening compared with conventional PV systems, the yield per kW of installed system power is increased by up to 25%!
The solid steel structure of the solar fence, like the frame system used in open areas, consists of two posts and beams. The lower section has a customisable fence element, and the overall height of the fence system can be flexibly adjusted.
The bifacial solar fence is well suited to virtually any terrain and can be quickly mounted using just a few screw connections. In addition, galvanisation of the material's surface provides additional protection from external influences.
The system is designed to meed high static requirements resulting in particular from wind loads. Project-specific adjustments enable it to be used virtually anywhere on the planet.
Our solar fence system offers a wide range of options for adaptation to terrain and substrate. The frame design is developed for easy, flexible assembly and a long service life. Together with the glass-glass solar modules used, the installation as a whole has a longer service life than a conventional south-facing roof-mounted PV system.
Our system construction kit offers a variety of customisation options:
Solar fence in two versions
The solar fence is available in two versions with differing frame systems.
The bifacial glass-glass solar modules are identical in both versions and are always 2 x 1 metre in size.
The premium version is more refined and precise than the standard version and can also be supplied powder-coated in all RAL colours. The colour anthracite RAL 7016 is particularly popular and can thus can generally be supplied with a short lead time.
The fence segments (posts) are available at heights of 1.15 m or 1.50 m and are 2.11 m long (post centre to centre). This enables flexible, individual design options for the total height of the solar fence. The height of 1.15 m is only available with a concrete wall. In this case, the concrete wall (at least 10-30 cm high) must serve as the base, as otherwise the PV module would sit almost at the ground and the risk of damage would thus be hugely increased.
The relevant height of the wall thus keeps the module away from the ground/base. In addition, this sets the desired total height of the fence. With the 1.50 m version, there are two implementation options: the posts are either set on a wall or on individual concrete footings. The PV module must always be at least 40 cm from the ground.
There are three versions of the premium solar fence available: 'on-wall installation', 'in-wall installation' (between two wall elements) or rooting in an 'individual concrete footing' to enable the solar fence to be positioned directly in a meadow or grassland.
If desired, the gap from the ground can be closed using a perforated plate, a stanchion mat or an aluminium plate. This could be to create a customised design or to prevent livestock or some pets from getting in or out. If using concrete walls, sloping land can be compensated for using the three different section sizes available (10, 15 or 20 cm).
Double height – higher electricity yield:
The premium version is also available at a double height of around 2.4 metres, with two modules mounted one above the other. This version can be set in a foundation of concrete footings or, if building a wall, use concrete-cast premium poles to which the premium fence is attached.
The frame design, drawn from the solar power sector, is designed to have a long service life and withstand a high wind load, as are the bifacial glass-glass solar modules used in the solar fence.
Unlike the premium version, the standard version of the solar fence is left industrial and raw, and is derived from our agriPV system. The modular construction with a height of 1.5 metres and a length of 2.15 metres (post centre to centre) and a ground clearance of 40 centimetres as standard, the fence can be used in various versions. On sloping ground, longer posts can be used to handle gradients of up to 10 degrees.
In the standard version, the gap from the ground can also be closed using a perforated plate, an aluminium plate or a stanchion or double stick mat (for small animals). For larger animals, there is the option of adding insulators for grazing wire.
Two piled steel profiles serve as a cost-effective foundation for mounting. However, drilled or concrete foundations can also be used based on local conditions.
Higher electricity yield with two stacked modules:
The agriPV solar fence also offers the option of stacking two PV modules on top of each other. On flat terrain the fence is then 2.83 metres high, or 3.13 metres high on slopes with a gradient of up to 12 degrees. In this version, the gap from the ground is 80 centimetres.
No glare from solar fence PV modules
Any concerns regarding the potential for glare caused by road traffic at night coming from the PV modules are entirely unfounded. The glass-glass modules use patterned glass and NOT float glass with an anti-glare coating. This patterned glass remains glare-free even after thirty years.
In Salzburg, the roads department conducted a practical test with our solar fence, mounting a fence element next to a main road for a period of six months. The result: no glare whatsoever was detected at any point during the testing period. As a result, more than ten solar fences were erected on this main road and on other busy roads.
Found something of interest?
More information about the Next2Sun solar fence can be found by browsing our website.
And of course, you can get in touch with us directly!